New hotel-type residential building, LemonGarden Residence & Spa, on the new Batumi boulevard, near the sea.
of New Boulevard, 400 meters from the sea. The complex combines quality apartments, a range of premium services, greenery and transport accessibility. Lemon Garden Residence is a contender for the title of the best complex.

Construction works are carried out in compliance with all norms and comply with European quality standards. All amenities are planned in the complex, apartments from 29 sq.m. to 57.7 sq.m.-s are planned. The price for 1 sq.m with a view of the mountains and the sea is from $1080 to -1570$.
The price for 1 sq.m with a city view starts from $880 to $1480. The condition is "black frame". The company also offers apartments with European-style renovation.
Lemon Garden Residence offers an author's layout specially designed for apartments. Residential complex with a spa center with a swimming pool and a sauna, underground parking, a fitness room, a restaurant, a veranda with a summer cinema, a cafe-bar.
Stained-glass windows and REHAU 70 doors will be installed in all apartments of the complex.
Passenger elevator KONE, MITSUBISHI.
Lemon Garden Residence offers internal interest-free installments for 36 months, and the management company will also take care of renting your apartment. It is noteworthy that there is a very low maintenance fee.
Near the residential complex there are shopping centers, a public school, a kindergarten.
The construction of the complex will be completed in December 2024.

№: 11743
Price
1 - 3 storeys, sea view: from $1 080/m2 to $1 570/m2.
4 - 21 storeys, city view: from $850/m2 to $1 720/m2.
4 - 21 storeys, sea view: from $0/m2.
Region: Georgia - Batumi
location: At the seaside, Elite district, "New Boulevard", Sea view, Resort district, Quiet district, Next to busy highway, Entrance from facade
Number of storeys: 21
Сondition: "Black frame", Free layout
Payment by instalments will be considered until 4 quarter in 2024.
Initial installment is 30%.
Completion of construction - 4 quarter in 2024.
Interest-free installment from the developer.
Elevator, underground parking, well-organized courtyard, well-organized courtyard parking for cars, well-organized courtyard with children playground, well-organized courtyard with sports and children playgrounds, Protected area
Monolith-frame house, luxury apartments, apartments, an outdoor pool, spa-salon, Fitness center, a cinema, a restaurant, a cafe, a bar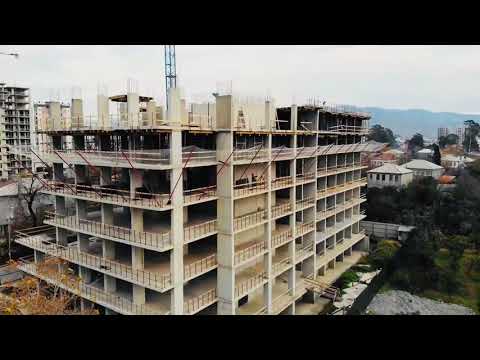 Property geolocalization:
open maps